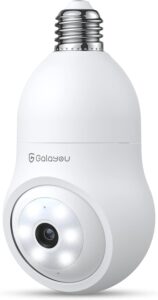 The GALAYOU Security Camera is a wireless, indoor-outdoor security and surveillance camera that ensures you can monitor your home from anywhere you want. The affordable gadget screws into your light bulb holder, works with an easy-to-install app on IOS & Android, and produces high definition 1080p quality, while keeping a stable, permanent connection to your home Wi-fi connection. Across several reviews, the GALAYOU passes the test for day and night image clarity, wide range, motion detection accuracy, notification speed, local recording, and two-way Audio. It's not waterproof, though.
Price: $35.99
FUJIFILM Instax Mini Link 2 Smartphone Printer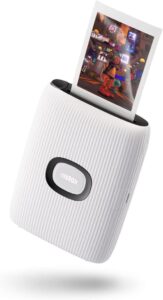 This compact and lightweight photo printer by Fujifilm connects wirelessly via Bluetooth to your smartphone to produce 2-by-3-inch hard copies of your photos with remarkable quality. Available in white, space blue, or soft pink, the Instax Mini Link 2 has an associate app with which extensive photo editing – such as photo frame templates, filters, sketches and stickers – can be done. Photos can also be printed from videos. The product package Includes the printer only, a USB cable, and a 1-year Limited Product Warranty. The Instax Mini Link 2 is compatible with the camera maker's proprietary instant film.
Price: $89.95