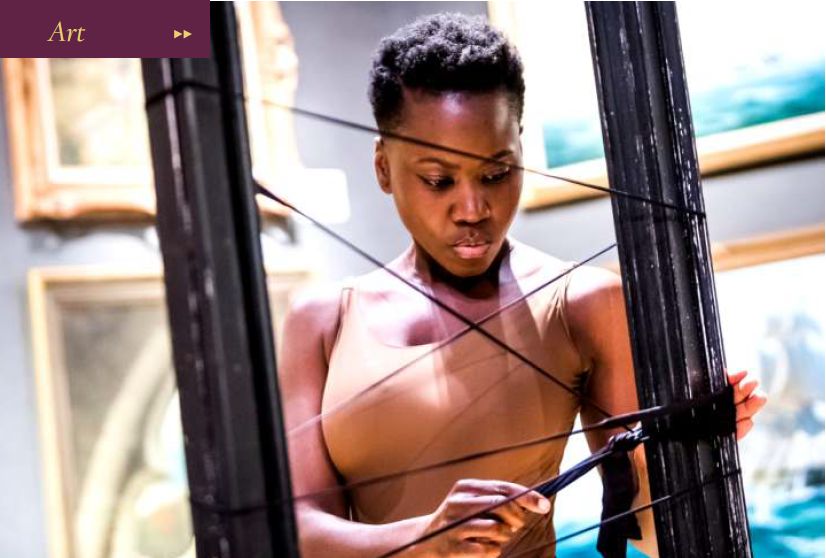 New Art Exchange is pleased to present Dellu, a showcase of textural works and performances on film from Enam Gbewonyo (winner of the NAE Open 2022 Exhibition Prize), on display between October 2023 and January 2024.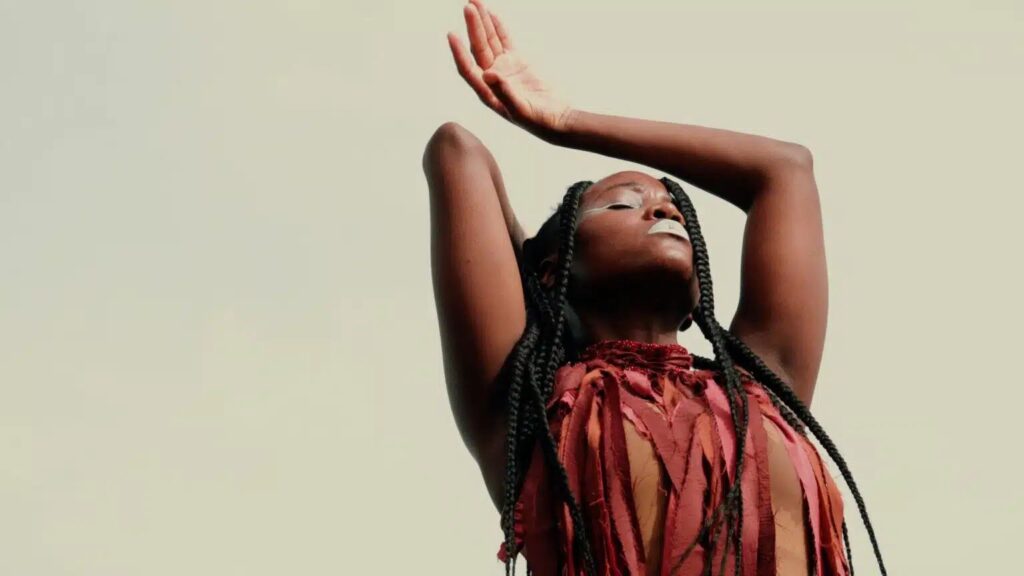 Dellu (translation from Wolof: The Return) is a series of works commissioned by New Art Exchange, made in 2023, and featuring the artist's most ambitious film work to date. These works were developed as part of her residency at Black Rock Senegal, where she spent six weeks exploring the role French colonisation played in changing the shape of Senegalese women's lives up to the present day, Senegal's strained history, and rich traditions. Nature plays a fundamental part in the work, informed by the striking backdrops to rituals performed in the performance film, and referenced in the colours used in the costumes and textural works. As with the works in Nude Me / Under the Skin, Le Retour seeks to break the cycle of generational and lived trauma that women carry.
Enam is a British-Ghanaian textile and performance artist, curator, and founder of the Black British Female Artist collective. Her art practice investigates identity – womanhood in particular, while advocating the healing benefits of craft. 
She uses performance as a vessel, creating live spaces of healing and direction to a positive place of awareness to counter systems of oppression such as racism and sexism. Her work enables audiences to face the truth of a dark past surrounding colonial legacies and the emotions they bring forth.
Recent exhibitions include Body Poetics at Southampton's GIANT Gallery, and Rites of Passage at Gagosian in London. Her work has been presented internationally at the 58th Venice Biennale, Art X Lagos, and UNTITLED Art Fair in Miami. In 2022 she was one of 16 artists selected for the prestigious Black Rock residency in Dakar, Senegal, founded by acclaimed artist, Kehinde Wiley.
Enam is represented by London-based gallery TAFETA, who specialise in 20th-century and contemporary African art.
Dellu by Enam Gbewonyo
When: 07 October, 2023 – 13 January, 2024
Where: New Art Exchange, Nottingham
How much: Free