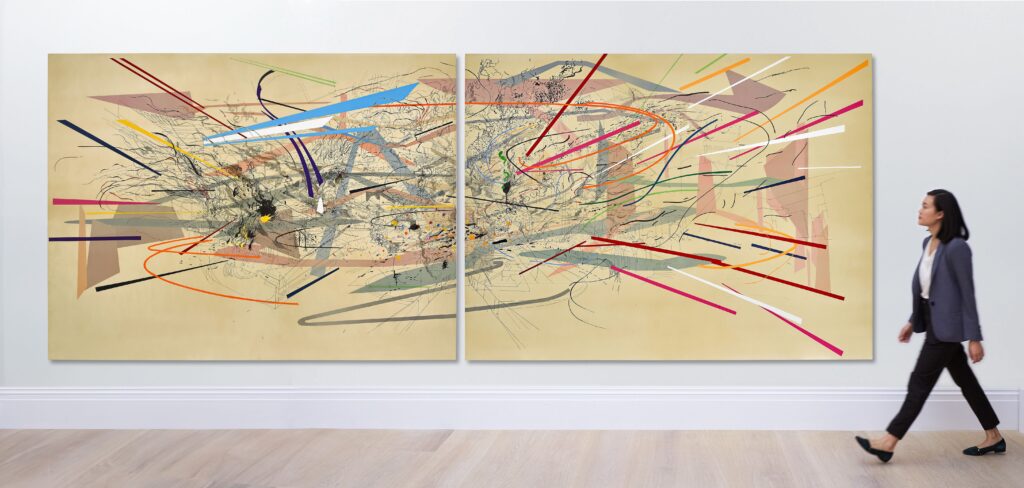 Last month, Ethiopian-born Julie Mehretu set a new auction record for an African-born artist. At the Sotheby's Hong Kong contemporary evening on 5 October, 2023, her untitled 2001 diptych sold for $9.32m (with fees).
Mehretu's current record-breaking work previously sold for $2.89m at Christie's New York in 2015, and so has seen a 227% increase.
Ms. Mehretu's result has far surpassed a record previously held by South African artist Marlene Dumas whose 1995 work, The Visitor, sold for $6.33m (£3.17m) at Sotheby's London in 2008.
Her work first hit six-figures at auction in 2010 at the infamous Lehman Brothers sale. After the Lehman filed for bankruptcy in 2008 at the apex of the financial crisis, its corporate collection was sold off at Sotheby's New York, with Mehretu's 2001 work Untitled I going for $1.02m.
Unlike in the broader market, the top prices for African artists at auction are generated by women. Two other artists in this top tier are the South African artist Irma Stern and the Nigerian American artist Njideka Akunyili Crosby.
As the contemporary African art market heats up (according to ArtPrice, $63m was spent on work by African-born artists in 2022—a $15m year-on-year increase), there have been worries about growing speculation, flipping and price corrections.
Despite this, the market for Mehretu is consistently strong, according to the head of Sotheby's Modern and contemporary African art department, Hannah O'Leary. "Her following has never faltered but rather has gone from strength to strength—as [the] result clearly illustrates," she told The Art Newspaper.
O'Leary adds: "While young artists are still popular, recently collectors have become more interested in mature artists such as Ouattara Watts and Seni Awa Camara, as well as modernists such as Ben Enwonwu and Gerard Sekoto.
Born in Addis Ababa in 1970 to mixed Ethiopian and Jewish parentage, Mehretu moved to Michigan (USA) as a child, eventually settling in New York.